The house is cramped because the things are not used too much? It's dizzy. So you want to get rid of the things, but still thinking of using them again. But if you want to keep it, don't know when you are going to use it again. Then, in this article, I will share 5 websites to sell household items.
We are obsessed with buying. Extra time at home during pandemic COVID-19 increases emotions for shopping.
Many of us every day looking for a new product at online shopping, Shopee and Lazada to find new household items.
Just look at below purchase records by Malaysians below. The data is in US dollars. Imagine how much if you convert to Ringgit Malaysia.
Source: datareportal.com
Once purchased, we use it for a while and eventually put it in the store, under the bed or on the shelf. The things become obsolete since no longer used.
During the period, more and more items are collected without frequently used. So, the space in the house starts to become cramped.
The new house used to be as wide as a field, now becoming increasingly narrow due to the dumping of unused goods.
We all know, the item is no longer unusable but when rarely used will cause it to eventually continue to be unused
For example the baby seat. It will not be used when it reaches a certain level. Unless we have a new kid. Then, we can plan for the kids later.

There are those who say "we can buy a new one later if you have new kids, as now, just throw it away".
Even so, there are also items that are always used but we want to try new items. So old items will also be kept unused such as furniture, electrical appliances and clothes.
The solution is, you can sell those items!
Why sell household items instead of throwing them away?
a) Get more space in your house. But can though away also increase the space of the house? Well, let's move to the next point.
b) Get extra money. Although a little, it still an income. Furthermore, during MCO hours it requires extra money.
c) Able to help those in need. Your intention is to just sell the item at a cheap price or for free.
Helping people is highly encouraged because this is a noble attitude.
We do not know the fate of others, perhaps the people more affected than we are.
So by helping to sell at the price of used items, at least can ease their burden.
What is the website to sell household items in Malaysia? Let's find out:
Just like its name, "Let Go Thing" gives an initial message about the purpose of this website was developed, which is to sell the household item that we have.
This website is specifically for selling household items only. It did not accept other used items even when around the house such as cars and motorcycles.
You can register for free and also post unlimited free ads.
A summary of this website is:
We provide a platform for housewives, husbands, wives, or family members to sell household items that are no longer needed. Clean your house, get more space!
Very popular in Malaysia if you want to sell any physical product, services even company. For me, that one of the best website to sell household items.
According to statistics from SimilarWeb.com, the average monthly visit to this website is 5.5 million. Very great.
A brief summary from the Mudah.my website:
Our website allows anyone to buy and sell in its area easily and conveniently. Mudah.my connects millions of buyers and sellers in Malaysia every month by providing an incredible user experience. Every Malaysian can find something to buy or sell on Mudah.my!
Did you know, Carousell also owns Mudah.my. Carousell was developed in August 2012 in Singapore. It is one of the largest classified ads websites in Southeast Asia.
If you are looking for a website to sell home goods, Carousell is one of the right places. I myself have sold Ovens and Heatpress Machines on this website.
In a few days, it sold out. Hope the Aunty who bought the Oven can make the bread tastier than me.
According to SimilarWeb.com, the average number of visitors to this website is 3 million per month.
A quote from Carousell:
Carousell was founded with the mission to inspire every person to start selling. We want to give our users the tools to solve problems – whether it's decluttering or earning side income – there are possibilities for everyone. - Quek Siu Rui, CEO and Co -founder.
Like its name, Secondhand.my gives you the space to sell household items online.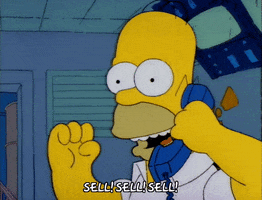 Source: giphy
You not just able to sell household items but anything. You can also buy a variety of products here.
Did you know, on 12.12 in 2020, sales in Selangor at that time were 875,00 items? That's only for Selangor itself.
According to SimilarWeb, the average number of visitors to this website is 53 million per month.
Clean Your House, Peace of Mind
It's really stressful if the house is full of stuff so it's hard to move. The easiest and smartest way is to sell to someone else.
The house is clean, the heart is calm and the wife will stop screaming. Start today, earn money and also be able to help others.
Use 5 websites to sell these household items to help make the best decision.
Abu Sofea
Successfully Sold Oven